FREE Shuttle!
We will take you to your chosen resort
Oferta válida entre 21/10/2018 y el 31/10/2020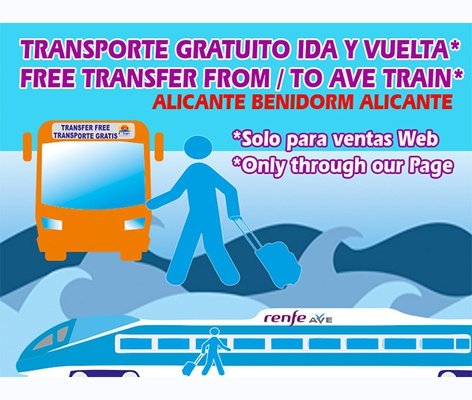 We always try to give the best servicies and facilities during your stay. That's why we offer you the shuttle service. Moreover, for stays of 5 nights or more, this service is for FREE (only available from the booking process on our website).

THESE ARE THE POSSIBILITIES:
- ECONOMIC: It is available for Magic Cristal, Magic Fenicia, Magic Villa Benidorm, Magic Natura, Magic Tropical Splash, Benidorm Celebrations. The shuttle takes you from the airport to your establishment.
- EXPRESS: It is available for Villa del Mar, Villa Venecia Hotel Boutique, Magic Robin Hood and Magic Rock Gardens. The shuttle takes you from the airport to your accommodation. It's our fatest shuttle, It only has 4 stops.
- AVE: If you arrive at Alicante by AVE, the shuttle service in FREE!. The shuttle takes you from the train station to your establishment.
You can only take with you 1 hand luggage + another luggage.
No buses available for wheelchairs.
Reserve transfer only valid for travel dates (arrival and departure).
If you book with 48 hour or less before. The shuttle service is only available under disponibility.